At the age of 13, having to buy my dogs food from my paper round money, complete dry dog food seemed the obvious choice.
It was 30 years later, and quite by accident that a friend of mine had taken delivery of more chicken carcasses than she had room to store.
Being both curious, open minded and taking on board what my friend had said about the benefits, I took the excess of her hands to try my dogs on.
At the time I had around 8 dogs, two in particular struggled to digest dry food. The changes were so visually obvious I was converted immediately.
Before I knew it my garage was a dog kitchen as friends and family could see the benefits. Such was my belief in the food that several years ago my garage quickly became replaced by an industrial unit an extra pair of hands and a license from DEFRA and all the red tape that goes with it.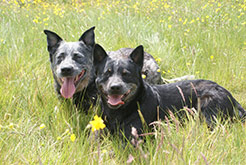 All my chicken is sourced from butchers supplying the catering trade for shops, supermarkets, restaurants e.t.c.
Once they have stripped off all the meat from the chicken carcass the remainder is what I buy and mince. From being collected the food you buy is processed, minced and frozen in less than 12 hours with nothing added to it. Assuring both quality and freshness.
Not surprisingly word spread fast and to keep up with the ever increasing demand, all I ask is 24 hours notice to assemble your order and inform you where to collect it from.